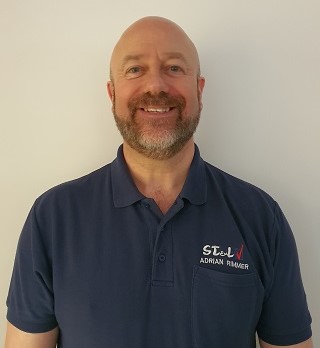 Adrian Rimmer
Originally qualified as an Electronics and Electrical Engineer, Adrian Rimmer was working for a company in 1993 who had begun to refurbish machinery in the Bottling and Packaging Industries. Refurbished machinery must be CE-Marked under The Machinery Directive and so he underwent extensive bespoke training by Dr Malcolm Fox from Teesside University in Middlesbrough in PUWER, The Machinery Directive and the many Harmonised European Safety Standards that were created to support the new European Directives regarding machinery safety. Teeside University were the government-appointed body to provide support to UK industry on the New Approach Directives. Adrian was one of the first machinery safety advisors to many clients in the Bottling and Packaging Industries.
In 1998, Adrian created ST&L Limited in response to the need to provide quality, professional and no-nonsense advice, consultancy & support to end-users of machinery, following the introduction of The Provision and Use of Work Equipment Regulations (PUWER) for existing machinery and The Supply of Machinery (Safety) Regulations in the UK for the CE-Marking of new machinery.
Adrian has 25 years experience in the machinery safety industry. He has project managed numerous risk assessment projects ranging from single machines to 900 machines located on 16 sites all over Europe. He has designed, installed, commisioned and validated many safety-related control systems (SRCS) for a wide variety of machine types across a wide variety of industries. He is experienced in CE Marking of machinery and technical file creation. He has personally PUWER-assessed many hundreds of machines, writing detailed technical reports and recommended corrective actions. He has designed, written commisioned and validated safety PLC software for many clients. One of his specialities is the writing of corporate machinery safety specifications for particular industries, based on Harmonised European Safety Standards. Adrian has also created and presented bespoke training courses on various aspects of machinery safety such as ESPEs, functional safety, PUWER, CE-marking and client's own corporate machinery safety standards.
'The key to mine and ST&L's success is that I'm a 'hands-on' consultant. Although I now have a fantastic team of machinery safety professionals around me I still spend a great deal of time on site carrying out PUWER/EHSR/corporate safety standard/risk assessments, so I'm always learning; seeing new machinery types, watching how different machinery manufacturers evolve their processes, machinery and most importantly, the safety aspects such as guarding designs, safety components and SRCS. This unique view of the machinery safety industry allows me to keep on top of new safety standards and give clients the confidence that we at ST&L have a deep understanding of machinery safety principles and standards'.
'ST&L has grown substantially and can proudly claim to have one of the most knowledgeable and experienced machinery safety consultancy teams in Europe, working across a broad range of industries with many internationally-recognised companies calling upon our services either on a retainer contract or on a project-by-project basis'.